NOT NOW, LATTER-DAY MATCHMAKER
Have you taken the 600 South Exit to downtown SLC lately? If so, you've likely seen the latest billboard atrocity from LatterDayMatchmaker.com, the same people who brought us The LDS Millionaire.
Have we not suffered enough? The other apocalyptic plagues we've been through the last few years I expected—but a reboot of the illest of all ill-fated Mormon-y Bachelor knockoffs (and I'm including Provo's Most Eligible here)? I'm not prepared. I thought we had more time.
Now I have to dedicate my entire self and all my time to figuring out who this "Prominent LDS Bachelor" is and what life choices led him here.
See you on the other side.
---
MLB Owners Doing A Great Job Killing Baseball
---
Logan Jones explains Major League Baseball's self-imposed negotiation deadline and ongoing labor disputes.
Certainly a number of baseball diehards will stick around regardless of how ugly the negotiation tactics become, but is that enough? Has baseball so quickly forgotten it took a steroid-fueled home run race to reignite public interest in the sport after a World Series cancellation in '94? Is losing a full season of prime Tatis Jr., Harper, and Ohtani really helping this sport in the long run?
The harsh reality is baseball has been shooting itself in the foot for a while now. Its ability to market players into household names pales in comparison to its NFL and NBA counterparts. If you walked past Mookie Betts or Jacob deGrom or Corey Seager dressed in plain clothes at a gas station, most of you wouldn't know it.
Read the full piece here:
---
Utah: Boss of the Pink Sauce
---
Christy Gilbert put in the work to determine the best fast food fries and fry sauce in the state.
You don't have to spend an afternoon swimming blind through fry sauce (although I totally recommend it) to recognize that it's the dream partner to fries. What you could spend an extremely enjoyable stretch of time doing is sampling fries and sauce from delicious spots close to you. Even if the specific mayo-and-ketchup mix isn't for you, our local fry sauce rage shows that you can and should be dunking in so much more than plain ketchup.
Read the full piece here:
---
Events
---
Join us March 25 or 26 (or both!) for Strangerville Live! Hear stories from Shelby Hintze, Whitney Call, Meredith Muller, and Brandt Hill.
Get your tickets before they sell out: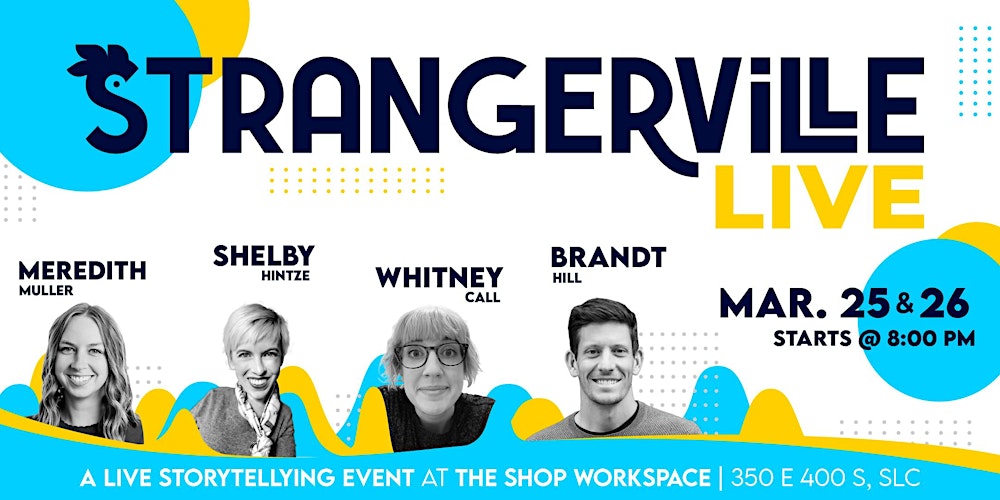 ---
Tweets of the Week
---
---
From the Podcast
---
This week on Hive Mind:
On RHOSLC, night 1 of the reunion: Jen's bejeweled gloves, giant Lego men, and everyone's favorite punching bag: Vida Tequila Owner Lisa Barlow.
Beehive Eats covered elevated avocado toast, Oquirrh's chicken pot pie, Laurel Brasserie, and the best evening dessert places along the Wasatch Front.