A Ukraine Primer And Ousted By Alpha Con
It's hard to know what to write in an intro to a newsletter featuring sports news and a Real Houswives recap when the world watches in horror as one country invades another. I'm not sufficiently informed to express insights or opinions on the dire situation in Ukraine, but my dear friend Eli McCann has spent significant time researching and living in the country. Today he published this history which has helped me to better understand what led to this moment. He also shared his thoughts on the latest episode of Strangerville:
I also found this article helpful in understanding what all of this has to do with NATO and the United States.
---
Alpha Con Dropout
---
Now, in much stupider news, I went to Alpha Con, tweeted about it, and they kicked me out.
I wrote about my experience for the Deseret News:
Because they kicked me out, I wasn't there for Day 2. But I do know Tomi Lahren spoke, and in her remarks she said:
"We allow other people the ability to speak, and if we ever didn't, that would be a huge problem. But I rarely see conservatives who say cancel that person, shut that person down, take their platform."
Who's gonna tell her?
---
The Fight to End Period Poverty in Utah
---
Arianna Rees gave us an explainer on HB162, an important bill making its way through the Utah legislature.
The first thing I noticed about the room—the visual that sank in and made itself at home—wasn't the large u-shaped desk at the front, or the senate committee members milling near the back. No, what I noticed first was that it was filled with women: middle school girls sitting shyly in the front row, twenty- and thirty-somethings in smart pantsuits chatting excitedly together, an aunt with her niece, mothers and daughters, middle aged women, one with a stream of white hair flowing down her back.
Every one of them was in the East Senate building that February afternoon to voice their support for HB162, a bill created by women for women that aims to put free period products in every women's and all-gender restroom in every public and charter K-12 school in the state.
Read the full piece here:
---
A Week in Sports Chaos: Juwan Howard, Phil Mickelson, and the Worst Hat Trick of All Time
---
Logan Jones helped us navigate the lull of the mid-February sports calendar with a full recap of everything that's going on.
You suffered through NBA All-Star weekend, for which you have my sincerest apology. We all kind of pretend All-Star events are cool every year when they pretty distinctly are not. Only this year, even casual fans seemed to notice it…well…sucked. It sucked by more magnitudes than even Stephen A thought possible. It was so terrible, the most recognizable star on the planet hit a jumper to ice the All-Star game, winked at the thought of yet another return to Cleveland by his career's end, and the A1 discussion Monday morning still consisted of reasons we may just want to cancel All-Star festivities altogether.
Read the full piece here:
---
RHOSLC Season 2, Episode 21: Winners, Losers, and One on the Salt Flats
---
LRE perfectly summarized the finale of RHOSLC, bringing an end to a true fever dream of a season that predated two variants and A WAR.
Honestly, this party is a flop. The vibes are off, my friends. Could it be the dtheme-not-theme or the blatant racism? Or why not both? The ladies unnaturally huddle as they are wont to do (it is their job) and Jen asks Meredith why they can't be friends. Meredith has gone over this many times. It is because she doesn't like her:
Meredith projects and thinks Jen is talking about her marriage, which she is not. This causes Meredith to completely glitch:
Read the full piece here:
---
Events
---
Join us March 25 or 26 (or both!) for Strangerville Live! Hear stories from Shelby Hintze, Whitney Call, Meredith Muller, and Brandt Hill.
Get your tickets before they sell out: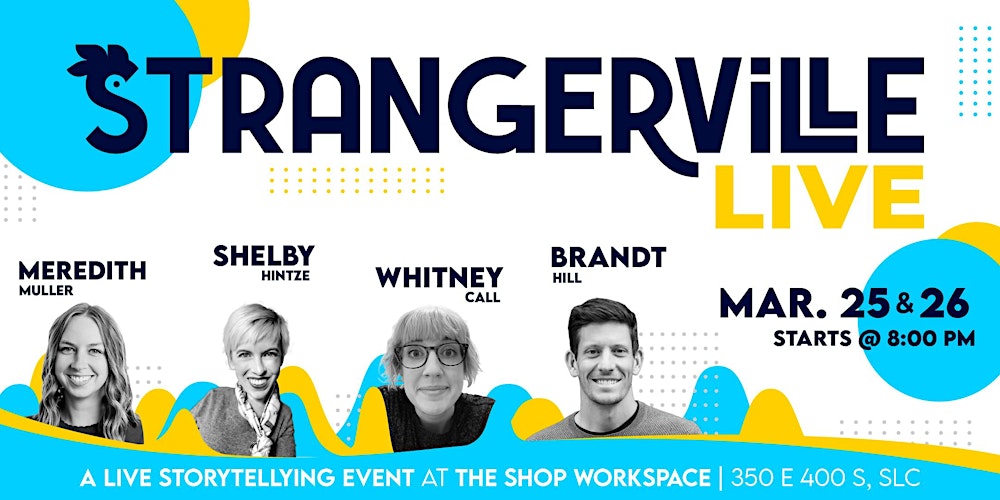 ---
Tweets of the Week
---
---
From the Podcast
---
This week on Hive Mind: