This Is the Place (For Burgers, Fries, and Shakes)
I took a date home for Thanksgiving once. Food traditions are big for me, and sharing food is my love language. I wanted to make sure he didn't miss any of his favorite Turkey Day foods, so I asked what his essential traditional Thanksgiving dishes were. He listed the usuals: turkey, rolls, pumpkin pie, "and Jell-O salad, of course."
Of . . . course?
I had follow-up questions. What kind of Jell-O salad? What color of Jell-O, mixed with which syrupy canned fruit? Do you put frog eye pasta in there? Cool Whip? Do you actually like Jell-O salad or is this some sort of Stockholm Syndrome response to having too many great-aunts? Who hurt you?

No, I don't really care for Jell-O salad. I made him some, though, which turned out to be a pleasant surprise for my mom and brother. I had assumed my family members were, like me, at best indifferent to Jell-O salad, despite all of us being pioneer stock. I was wrong. They loved it.
This seems to be common to humans: we assume others share our preferences. We think that our normal is everyone's normal. We figure most folks eat what we eat.

In fact, many of our eating patterns are as regionally specific as the weather for which we dress. Like the Midwest's hot dish and the breakfast tacos of Texas, Utah has its peculiar foods. We eat Jell-O salads at big family functions, but we also call deep-fried pillows of roll dough "scones" and order them as appetizers at our favorite diners. (Scones originated in the UK; over there, they are lightly sweetened, biscuit-like baked goods served with jam and clotted cream. The takeaway here is that anything called a scone is something you should eat.) We do Miracle Whip, cheesy casseroles, and a host of local products like Bear Lake raspberries, Brigham City peaches, corn on the cob, honey, and squishy sandwich bread.

What we do that I love most is the classic burger, fries, and milkshake combo. That particular meal is not, of course, solely Utahn. You can get burgers and fries all over the world, add a milkshake almost as easily, but the Beehive State has a couple of great edges on the market.
First, we're completely saturated with them, which means you can easily enjoy a quality iteration of this meal anytime and without driving too far. In my mostly residential Millcreek neighborhood, just a mile in every direction, there are eight burger restaurants I can think of offhand without even pulling up Google maps. That's not counting McDonald's, Burger King, or Wendy's. Utah loves burgers. Lots of them.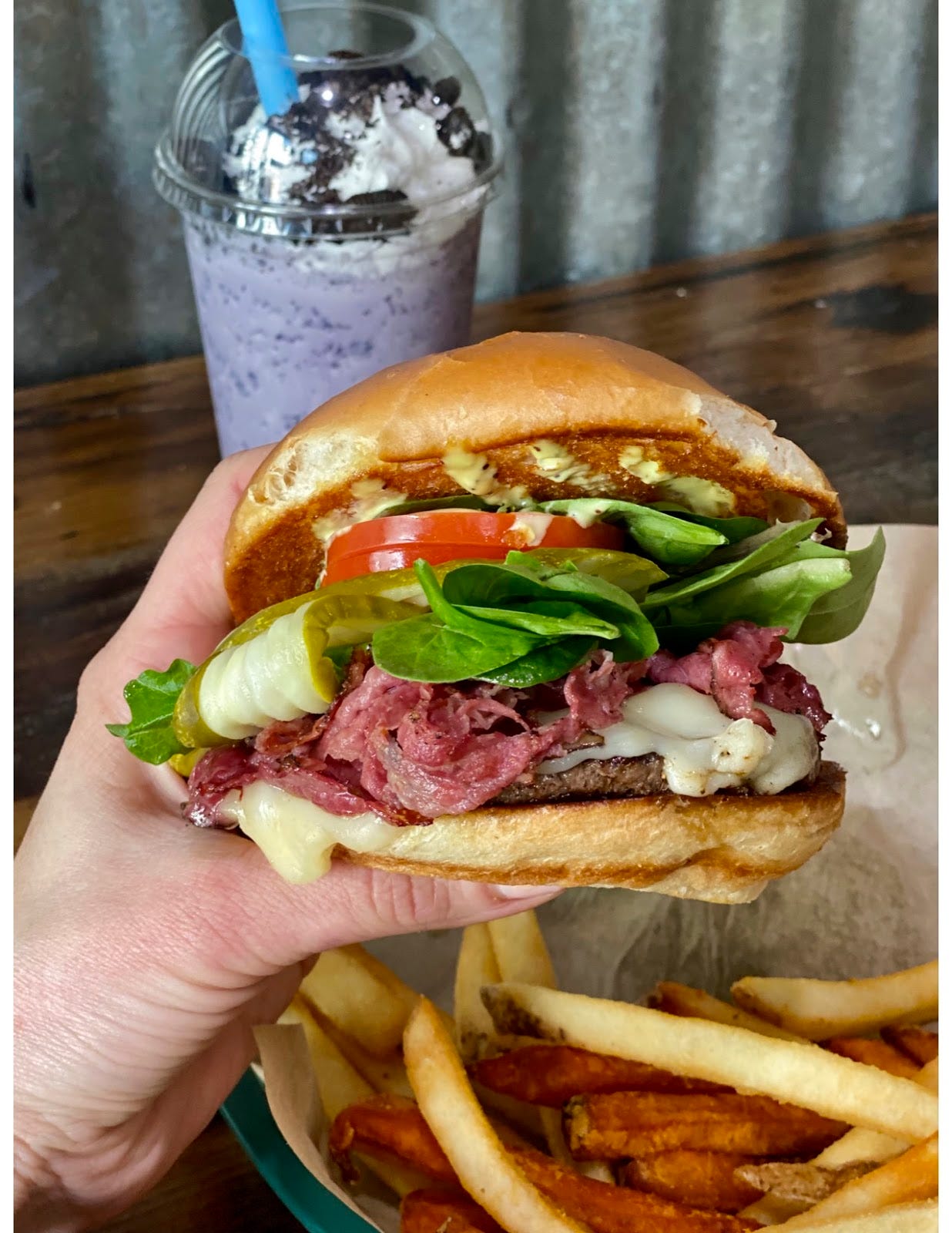 Pastrami-topped burgers, like this one from Rich's Burgers 'n' Grub, are a Utah favorite.
The ubiquity gives us a vast range of burger combos, with widely varying preparation styles, ethnic origins, fusion spins, and flavors. We have drive-throughs and diners: for a classic experience, go to Crown Burgers for the eponymous pastrami-topped girl next door, fries with Utahns' favorite sauce, and a tall milkshake with custom mix-ins. There are bar burgers: at Lucky 13, get a juicy pink patty with novelty toppings like peanut butter and house-smoked bacon, and house hot sauce for your fries. You'll have to get a FatBoy ice cream sandwich for dessert at Lucky, instead of a shake, but FatBoys are a Utah original, so it counts. There are beautifully-executed gourmet burgers, with price points ranging from $18 to over $30. You may not find a milkshake on those menus, but you'll still be getting a uniquely Utah experience—most of Salt Lake City's upscale restaurants offer burgers alongside their fancier fare, transcending what's typical to give the people what they want.
The reasons we Utahns love burgers so much are for sociological speculation, maybe. They're a family-friendly food, accessible to groups and to picky palates, making them great for a population of big families. There's a classic vibe to a burger and fries, a sense of good old-fashioned America. It's meat, bread, condiments, and potatoes; it fits everything I know my people to be, but even beyond that, I just think burgers are delicious. Thick, hearty, marbled meat, its juicy interior contrasting a crisp seared crust, made richer by melted cheese, cut by the acidity of pickles or vinegar-based sauces, balanced against crunchy vegetables and supported by soft bread--this is the stuff of my dreams, and most of the state agrees with me. I've participated in several online taste-off and polling events for burgers and fries, and a resounding and passionate majority of social-media-using Utahns love burgers, eat them frequently, and have strong opinions about which burgers and fries are the best ... and about which fry sauce they eat with those fries.
Fry sauce is Utah's other edge on the burger market, and there are hundreds of variations, but that's another story for another day. For now, let's leave it at this: based on my amateur research, I know that approximately three in four of you agree with me. Once you've had fry sauce, you can't go back. Naked fries will never satisfy again.
Queso burger with mixed fries, house fry sauce, and an Oreo blueberry shake at Rich's.

Burgers, fries, and fry sauce are the dream team—and once you've gone all in on an experience so rich, salty, creamy, and sloppy, you're in the exact right headspace to add ice cream. While you're at it, get in there and get extra. Don't settle for just ice cream when it could be blended with cookies, brownies, fresh fruit, or all of the above, and don't do it on your own. Involve the burger-flipping and milkshake-blending experts in your neighborhood. Support local small businesses, at a time when it really matters, while feeding your family, owning your heritage, and making your people proud.
Now that you're hungry, allow me to recommend a few places to satisfy the cravings you're suddenly experiencing.

Brickyard Bar, Millcreek: It's a newer bar burger in town, and it's ambitiously loaded and beautifully executed, with 8 ounces of chuck and brisket mix cooked medium pink, white cheddar, fried shallots, house-pickled jalapenos, and two toppings that take it over the edge for me: bacon jam and smoked onion aioli. The fries and fry sauce are masterful, too.
Millie's, Sugar House: The most basic of burgers and fries, but with this major selling point: unlimited mix-ins for your shake at no extra charge. My favorite to date is Oreos, peanut butter, hot fudge, and raspberries. The flavors blend your childhood nostalgia for PB&J lunch and an Oreo snack; it works, I swear.
Rich's, Downtown SLC: The burgers are big and the toppings are killer. Try the pastrami, the habanero pineapple, or the queso burger, or just go nuts with a slab of mac and cheese griddled and layered right in your burger. Bonus: they can make any of those bomb burgs meatless with a house-made black bean patty, and their mixed basket of fries with fry sauce is heaven. Get a shake, too. Obviously.
From Scratch, Downtown SLC: When I helped to judge the winners of a burger bracket last year, to find Utah's best, this was our winner. A soft brioche bun, made in-house, buttered and toasted, with juicy marbled meat, rich, jammy ketchup, and local aged white cheddar. The fries and fry sauce are delicious, and you can walk across the street to Monkeywrench for a fantastic dairy-free milkshake or waffle cone to round things out.
Papito Moe's, Salt Lake City and coming soon to West Jordan: No burgers here, but get a Puerto Rican roast pork grub bowl or tripleta three-meat sandwich and add fries or fried plantains with house-made wepa sauce. Pro tip: get the pique (hot) and mojo (garlic) sauces as well, then mix some of those into your wepa. You're welcome.
For more recommendations, follow me on Instagram at @fig.eats. I'll make you hungry.